---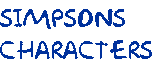 ---

---
---

---
---
What's New
November 24, 2006
It's that time of year again. Time to get that Simpsons fan in your life something special for the holiday season. Check out the all-new Simpsons Product page here.
March 14, 2006
I have had enough of the advertisement postings on the message board. I was unable to control them. Since there were very few actual postings, I decided to remove the message board all together.
December 12, 2005
I have received numerous emails about a recurring character on the show who says "Yeeeessssssssss" a lot. I know the character but have limited info about him. I have started making a page for him with the little info that I have. You can find it by clicking here.
I have had a problem for a while now of people using the message board for their own advertisements. I have tried to regulate this by banning IP addresses and deleting these posts but this has not accomplished much. Since there is not that much discussion on the board anyway, I may just take it down.
December 12, 2004
Are you a Simpsons fan and still gaven't bought the season DVDs yet? Or know someone who is? Well you can now order the entire first five seasons together and save! Go to the DVD page.
There are some great Christmas-related Simpsons products avaialble now through Amazon. Check out the new holiday products page to view them.
December 11, 2005 November 27, 2004
Its holiday season again! Why not get some Simpsons merchandise for that Simpsons fan in your life. The Simpsons Season 5 on DVD will be released before Christmas and can be preordered today! Check out the Simpsons Products page for more info.
November 4, 2004 October 5, 2004
Need a great costume for Halloween? Check out the new Groundskeeper Willie costume at the products page.
April 17, 2004