Kent Brockman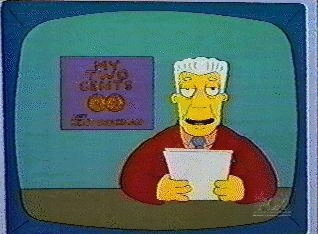 Occupation: News Anchor
Voiced by Harry Shearer
Kent Brockman Sounds
The Following People are Gay:
Matt Groening
Ken Tsumura
George Keyer
Joel Kuwamara
Bill Oakley
Elizabeth Jacobs
Josh Weinstein
Jane O'Brien
Annette Anderson
Jennifer Crittenden
Mike Scully
Dominique Braud-Stiger
Greg Daniels
Joseph Boucher
Al Jean
Ping Warner
Craig Feeney
Richard Raynis
Don Gilbert
David Mirkin
Jacqueline Atkins
Chris Ledesmi
Mark McDimsey
Alf Clausen
Alison Elliot
David Silverman
David Lohen
Margeret Diaz
"THE SIMPSONS" TM and (C) Twentieth Century Fox Film Corporation. All Rights Reserved. This non-profit site is in no way affiliated with 20th Century Fox Film Corporation. "THE SIMPSONS" and all related characters are the creation of Matt Groening and the author of this page claims no responsibility for them. All images containing characterizations of "THE SIMPSONS" seen on this site are for entertainment uses only.